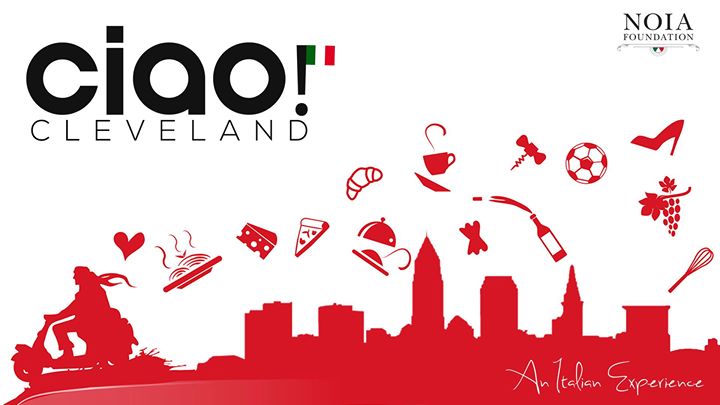 CIAO! Cleveland
FAMILY FRIENDLY // PET FRIENDLY // FREE EVENT
The Northern Ohio Italian American Foundation (NOIA) is extremely excited to announce the inaugural CIAO! Cleveland, an Italian experience to kick off Italian Heritage Month. CIAO! Cleveland will be open to the public as a free event on Saturday, October 5th from 12pm to 10pm alongside the Lake Erie Waterfront in the Flats East Bank.
The day will feature a wine tastings, cooking demonstrations, fashion, art, alcohol, coffee, music and of course FOOD!
This event kicks off Italian Heritage Month around the Country! We will be updating this page as well as our website daily so stay connected.
For more information or to participate in the CIAOcleveland.com.
Check out the live entertainment for CIAO! Cleveland:
12:00 PM – 1:30 PM – DJ Ryan Harvey
1:30 PM – 3:00 PM – Jim Frank Trio
3:00 PM – 4:30 PM – DJ Caffrey
4:30 PM – 6:00 PM – The Avanti Band
6:00 PM – 8:00 PM – DJ Dominic Parisi
8:00 PM – 10:00 PM – The Spazmatics
Check out the Medical Mutual Demonstration Tent for CIAO! Cleveland:
***this is the only ticketed part of CIAO! Cleveland and space is limited***
1:00 PM – 1:45 PM – White Wine Tasting
2:00 PM – 2:45 PM – Angelo Petitti of Petitti Garden Centers
3:00 PM – 3:45 PM – Red Wine Tasting
4:00 PM – 4:45 PM – Miceli Dairy Products Company
5:00 PM – 5:45 PM – Orlando Baking Company
6:00 PM – 6:45 PM – Fabio Salerno of LAGO EAST BANK
***tickets on sale now… THIS IS THE ONLY TICKETED PART OF CIAO! Cleveland***
This event would not be possible without our sponsors:
Presenting Sponsor: Northern Ohio Italian American Foundation
Primo Sponsors: Petitti Garden Centers, Alfa Romeo of Strongsville, FIATofStrongsville, Medical Mutual, Tito's Handmade Vodka, Birra Peroni, Miller Lite, Adcom
Vino Sponsors: LAGO EAST BANK, Miceli Dairy Products Company, Orlando Baking Company
Vespa Sponsors: Caruso Coffee, Erie Island Coffee Company, Tito's Handmade Vodka, Ferrara's Imported Foods
Vendors
LAGO EAST BANK/ Lago Custom Events
Caruso Coffee/ Erie Island Coffee Company
Miceli Dairy Products Company
La Gazzetta Italiana
Orlando Baking Company
Cafe Piccolo Avon
Luca Italian Cuisine
Dante's Inferno Flats
small screen designs
Davide Cotugno Executive Tailors
Angelo's Nido Italia
Cafe Arnone
Sauced Pizza & Pasta
Tony G's Italian Tees
Ferrara's Imported Foods
Corbo's Bakery In little Italy
Cleveland Italian Ancestry Organization – CIAO