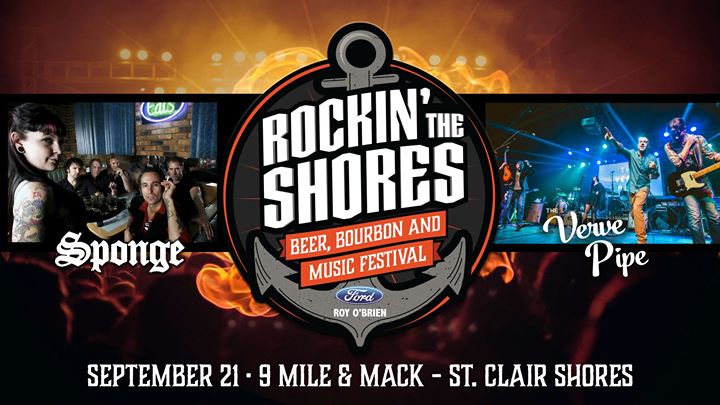 Rockin' the Shores
Roy O'Brien Ford, Inc. presents Rockin' the Shores Beer, Bourbon and Music Festival. The festival takes place on Mack Avenue. Enjoy live music, bourbon tasting, ice cold craft beer and food trucks. Rockin' the Shores is open to all ages, until 9p.m. After 9 p.m. 21+.
Come enjoy a full day of live music with Sponge, The Verve Pipe, Eva Under Fire, The Lows, Ricky's Rat Pack, Half Light Music, Orbitsuns, Visitor Music, Dark Eyed Dreamers, Solid Frog and Michigan Rock School and more!
Roy O'Brien Ford, Inc.. Main Stage
2:00 -2:40pm Michigan Rock School
3:00-3:40pm Half Light Music
4:00-4:40pm Visitor Music
5:00-5:40pm Ricky Rat Pack
6:00-6:40pm The Lows
7:00-7:40pm Eva Under Fire
8:00-8:40pm Sponge
9:00-10:30pm The Verve Pipe
Second Stage
3:40-4:10pm 7 Days a Year
4:40-5:10pm Rockwell Music Therory All Stars
5:40-6:10pm Orbitsuns
6:40-7:10pm Solid Frog
7:40-8:10pm Asphalt Flowers
8:40-9:10pm Dark Eyed Dreamers
The Verve Pipe is primarily known for their post-grunge blockbuster hit "The Freshmen," The Verve Pipe formed in 1992 in Lansing, Michigan, where frontman Brian Vander Ark pieced his group together from the ashes of two local rival bands.
The Verve Pipe released their platinum major label debut Villains in 1996. The album featured the radio hit 'Photograph' and the #1 single 'The Freshmen,' one of the most successful multi- format tracks of 1997 and winner of an ASCAP Pop Award. Their follow-up release, the critically acclaimed self-titled LP The Verve Pipe, featured 'Hero,' a Top 15 hit at Modern Rock radio.
In 2001, RCA released Underneath, which produced the singles 'Happiness Is' and 'Never Let You Down,' one of the most played songs for Adult Top 40 and Modern A/C radio that year. The album also included 'Colorful,' the emotive ballad featured in the film and soundtrack Rock Star, starring Mark Wahlberg and Jennifer Aniston and also co-starring lead singer Brian Vander Ark in his first major film role.
Sponge, who still proudly resides in Detroit, had their debut album, Rotting Piñata, released in 1994, was a major hit, received heavy play on radio and MTV, and was certified gold by the RIAA. The two biggest singles from that album were "Plowed" and "Molly". By the end of 1994 Charlie Grover had replaced drummer Paluzzi. Their follow-up album was called Wax Ecstatic; the track "Have You Seen Mary" was included in the Kevin Smith film Chasing Amy. The title track also received significant airplay.
This event is FREE to attend. All Ages until 9p.m. / 21+
Bourbon Lovers! 🥃💕 Bourbon sampling tickets are on sale now at www.RockintheShores.com. You'll receive a pretty cool Rockin' the Shore Bourbon Rocks Glass and get to sample a variety of bourbons on the rocks or in a mixed cocktail. Price $25 until Sept 20 and $30 (if any tickets remain) the day of the event. Whiskeys sampling packages will be available for sale at www.RockintheShores.com
Rockin' the Shores is a FREE event to attend. Bourbon sampling is a ticketed event that will take place at the festival. Sampling starts at 5pm and ends at 8pm, right before SPONGE hits the stage.
For sponsorship, vendor or media inquiries please contact jlaw@360EventProductions.com